Dental Implants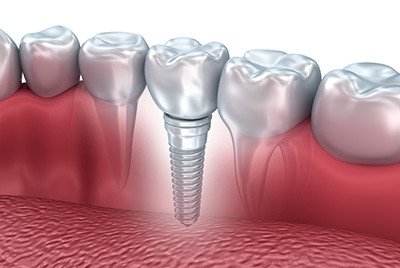 Dental implants are replacement teeth that look like, and can be cared for like, your own. Whether you are missing one tooth, multiple teeth or all of your natural teeth, dental implants are a perfect solution.
In the not so distant past, constant denture relining and shifting, dietary restrictions and jaw shrinkage was what many people with missing teeth could look forward to as they aged. For our patients who want to avoid these problems, we believe implants are the best solution dentistry has to offer. Dental implants can restore complete functionality and natural beauty.
Implants are secured with an amazingly strong titanium post that can last 25 years or more. They don't interfere with speech, eating or comfort. Recent advancements make implants easier and more affordable than ever. The natural, esthetic look of the restorations is another benefit.
When you are missing teeth the bone can weaken and the jaw can recede. Implants keep your jaw strong and youthful looking.